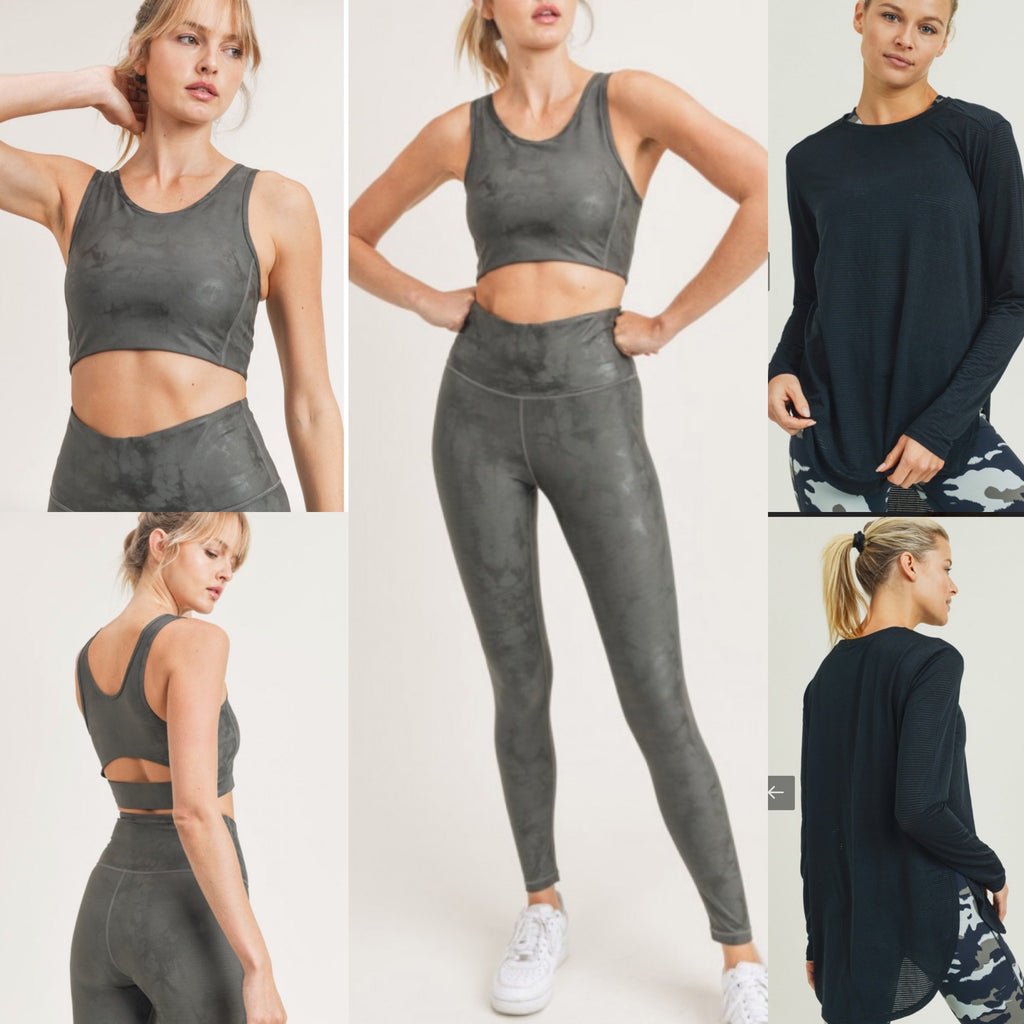 The Midas Touch Activewear! GunMetal!
$36.00
Comfortable and Cute Leggings, Tops and layering pieces are IT right now! So many cute styles coming from one of our favorite Activewear lines. Not only is the fit and fabric insanely amazing, the price is too!
We LOVED these Metallic Print and Cropped Bra style in GUNMETAL!  A new and HOT Color for Spring! ! So cute!! And then when you throw this great lightweight ribbed long sleeve tee over it, I mean it doesn't get better!
Leggings: We upped the ante for our foil/shiny leggings collection with this special pair. The metallic pigment was printed on the four-way stretch fabric in a random pattern to create a dramatic and unique look. The high waistband comes with a discreet pouch for your phone.

75% nylon, 25% spandex.
Tummy control. Moisture-wicking. Four-way stretch.
Cropped Bra : Crafted from exclusive Overlay Foil print, four-way stretch fabric, this sports bra has a classic silhouette on the front with a rounded neckline, and a half-ellipse cut-out on the back to keep you cool.

75% nylon, 25% spandex.
Removable bra pads.
Moisture-wicking.
Four-way stretch.
Top: This flowy top is constructed using all-over fibbed mesh fabric. It features tulip sides with slits as well as hi-lo, asymmetrical cut. Perfect to layer over your activewear. 88% polyester, 12% spandex. Moisture-wicking. Four-way stretch.
Wear together, separate or pair with anything really! So cute for athletic wear or just running around wear! 
Leggings and White Top: $36 each
Bra: $28